Appery​.io is a mo­bile app plat­form de­vel­oped and sup­ported by Appery, a wholly owned sub­sidiary of Exadel. This is the lat­est newslet­ter sent out by the Appery​.io team.

NEWSLETTER: September 2015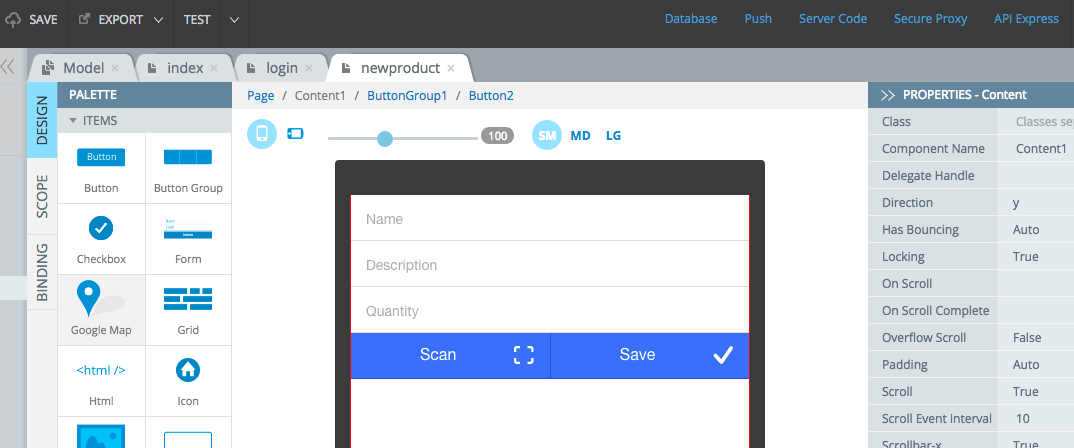 Appery.io's New Release!
With our lat­est re­lease, we've in­tro­duced some awe­some new fea­tures, in­clud­ing:
The Appery​.io AutoUpdate fea­ture: With AutoUpdate, you can up­date your apps with­out hav­ing to re­sub­mit them to the app stores.
New API Express Capabilities: API Express was up­dated with pow­er­ful vi­sual tools, a new de­bug mode, and a new ex­ten­sion. It also now sup­ports the LDAP pro­to­col.
Updated Mapping and Binding: Quickly map data be­tween scope and ser­vices us­ing the up­dated vi­sual map­ping ed­i­tor. Appery​.io now also pro­vides a vi­sual tool for bind­ing that's used for man­ag­ing the con­nec­tions be­tween scope variables/​functions and UI com­po­nents.
To learn about these and other new fea­tures, please check out this blog post.
Appery​.io in Education: Higher Colleges of Technology & University of Hawaii
The Higher Colleges of Technology (HCT), one of the largest in­sti­tu­tions of higher learn­ing in the United Arab Emirates (UAE), as well as the University of Hawaii, re­cently in­te­grated Appery​.io into their cur­ricu­lums to teach stu­dents how to code.
Thanks to the sim­plic­ity, flex­i­bil­ity, and speed of the plat­form, stu­dents are able to build fully func­tional apps in the class­room. For ex­am­ple, groups of stu­dents from the HCT's Sharjah Women's College have built apps to help fa­cil­i­tate blood do­na­tion and as­sist with stu­dent trans­porta­tion. You can check out some stu­dent-made apps here and here.
To learn more about in­te­grat­ing Appery​.io into your cur­ricu­lum, check out our ed­u­ca­tion page.
New Case Study: The Colorado Behavioral Health Council
The Colorado Behavioral Health Council (CBHC) re­cently used Appery​.io to build an app to em­power at­ten­dees at their an­nual train­ing con­fer­ence. The CBHC is a non-profit statewide mem­ber­ship or­ga­ni­za­tion for Colorado's net­work of com­mu­nity be­hav­ioral health providers. CBHC's 27 in­di­vid­ual be­hav­ioral health­care en­ti­ties pro­vide com­pre­hen­sive be­hav­ioral health and psy­chi­atric ser­vices to every re­gion of the state.
You can find the en­tire case study here.
Upcoming Events
We will also be at­tend­ing the Gartner Application Architecture, Development & Integration Summit from December 1 — 3 in Las Vegas, Nevada. Stop by and say hello!
You can reg­is­ter for the Gartner AADI here.
App Builder Upgrade Notice
In September 2014, we in­tro­duced an en­hanced App Builder and in­formed all our cus­tomers that they should up­grade their apps to the new App Builder. If you have not done so al­ready, you now need to up­grade the apps to the cur­rent App Builder as the old App Builder will no longer be sup­ported af­ter November 1, 2015. We sent out an e-mail no­tice to all cus­tomers who hadn't yet up­graded, and we will send an­other one as the dead­line ap­proaches.
You can also read this re­cent blog post to learn more.
Upcoming Webinars Webinars
Image Capture and Storage for Your App
Wednesday, October 7, 11am Pacific time
Office Hours/​New Features Update
Thursday, October 15, 10am Pacific time
API Express: On-Demand APIs for Your Apps
Wednesday, October 28, 11am Pacific time
Recent Webinars
Testing and App Sharing Using the Appery​.io Tester App
Build in 5 Minutes Series
Make sure to check out our on­go­ing se­ries of videos, "Build in 5 Minutes," where every video will show you how to build a com­plete real app with Appery​.io in un­der five min­utes! We have 12 videos so far, rang­ing from build­ing an app with a bar­code scan­ner to cre­at­ing a Server Code script to in­voke an API.
You can view all of the videos here!